$15,995 Color       
$11,500 Black & White
The CTS-8800 diagnostic ultrasound is a color high quality, high definition, easy to use, musculoskeletal unit which is light and portable. The unit also comes equipped with a multi frequency probe, vascular testing capability, and the ability to interface with your computer and EMR. This is a perfect ultrasound machine for podiatry, orthopedic, vascular, or ob/gyn practices.
BENEFITS:
Color
Excellent Image Quality
Cineloop
Extensive measurement and calculation functions (e.g.: wound mapping)
Vascular Studies
10″ high-definition monitor
One year warranty. As a part of our service, if there should be a need to have your unit repaired, a replacement unit will be shipped to you to prevent as much down time as possible.
Product features:
Leading 4D Probe
Excellent 4D Imaging
Simple Operation Mode
High-Quality 2D Imaging
To Bring 4D Ultrasound Imaging into Popular Use
The release of the CTS-8800 promotes development and popularization of 4D ultrasound imaging, and will certainly trigger revolutionary transformation to 4D ultrasound imaging.  Through the perfect match of 4D ultrasound and B&W imaging, the users can obtain 4D ultrasound imaging function at the mere cost of a B&W ultrasound, instead of high price for a high-end color Doppler, which dramatically reduces the purchase cost, as well as exam fee for the patients.
The CTS-8800 leads you to the 4D imaging world!
Leading Volume Probe Technology
SIUI is one of the few manufacturers that can develop volume probes (also called the 4D probe) in the world, and its technology is in leading position. Therefore, the CTS-8800 is endowed with high-density high-definition volume probe, ensuring superb 4D ultrasound imaging effect.
Simple and Quick Operation
Unlike complicated operation in traditional 4D ultrasound imaging, the CTS-8800 adopts simple and quick operation method. Just with a few simple steps, the 4D ultrasound images can be easily obtained.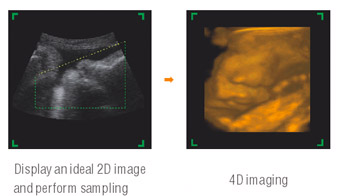 Complete Document Management System
The system can save 4D and 2D diagnostic images in different storage formats (BMP, JPG, AVI and CIN) into multiple storage media (hard disk, CD and USB disk), which can be directly played on a PC for medical exchange.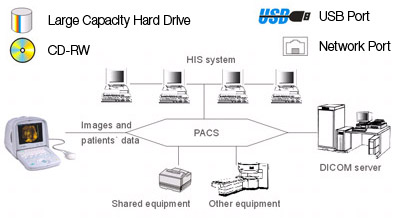 Connection with PACS and HIS Systems through DICOM3.0(Option)
We also have a black and white unit with excellent resolution available for $10,995
AVAILABLE OPTIONS:
Standoff Pad (3 gel pads included) $198
Transceptic Cleansing Solution $12.50
Gloss Thermographic Paper $125
Gell Bottle $7.00
Mobile Cart $700