PODRay DIGITAL PODIATRY X-Ray SYSTEM
$17,995.00
The PODRay Podiatry Digital X-ray System is your best solution for digital X-Ray. We offer both a top of the line system, PODRay, and an entry level system, the PODRay EC.
Eligible for $5000 tax credit.
Our pricing includes Installation and on-site training, this is a $1500 plus value that some other vendors do not include in their product pricing then add that cost later.
IMS Medical gives you a refurbished control arm for your Xcel X-ray Stationary unit. Our control arms (the part that holds the head in place) are refurbished to better than new condition, an $800 value.
We support the Xcel X-ray part of you digital X-ray system, so in the event that you do get a failing X-ray unit we have units ready to go for overnight shipping. We carry a supply of over 20 refurbished X-Cel units in our inventory. There is no need to buy a new X-Cel X-ray unit. We can support your unit.
Description
IMS Medical's high quality customer service has allowed us to install PODRay digital xray systems for the past several years with very high customer satisfaction.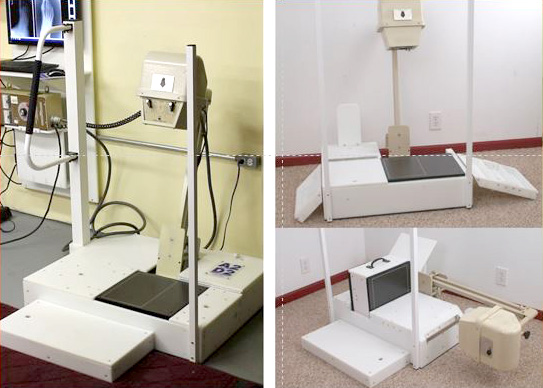 | | |
| --- | --- |
| PODRay | PODRay EC |
| 21 Mega Pixel CMOS | 18 Mega Pixel CMOS |
| Poser Size 36 x 29 with 15 x 17 Transition Area | Poser Size 31 x 28 with 12 x 13 inch Transition Area |
| No Lateral Shot Foot Risers Needed | Left and Right 1¼ Inch Lateral Shot Foot Risers |
| Detector Size 14½ by 13 by 6¼ | Detector Size 16¼ by 14 x 7 |
| Detector Weight 20 Pounds | Detector Weight 24.6 Pounds |
| Heavy Duty Large Hand Rail | Two Single Hand Rail |
| Two Single Hand Rail | Computer 500 Meg Data Storage |
"The ability to have this technology in my treatment rooms has also proven to be an extremely important advance in the practice of foot and ankle surgery.  This system is relatively easy to operate and I would highly recommend it to any podiatric foot and ankle surgeon."

Dr. Harold Schoenhaus, 
Podiatric Director
Penn Wound Care Center, Philadelphia, PA.
"I am very pleased with the image quality of this product.  We are able to acquire excellent images in seconds saving time for both the patients and staff.  The user-friendly software is very intuitive and easy to use.  I also am very appreciative of all the excellent customer support I received.  I would highly recommend this product to anyone considering ditital X-ray equipment."

Dr. Fred Kussel, 
Podiatric Physician and Surgeon.